MIDCALF NICHOLLS SPONSOR LOCAL FOOTBALL TEAM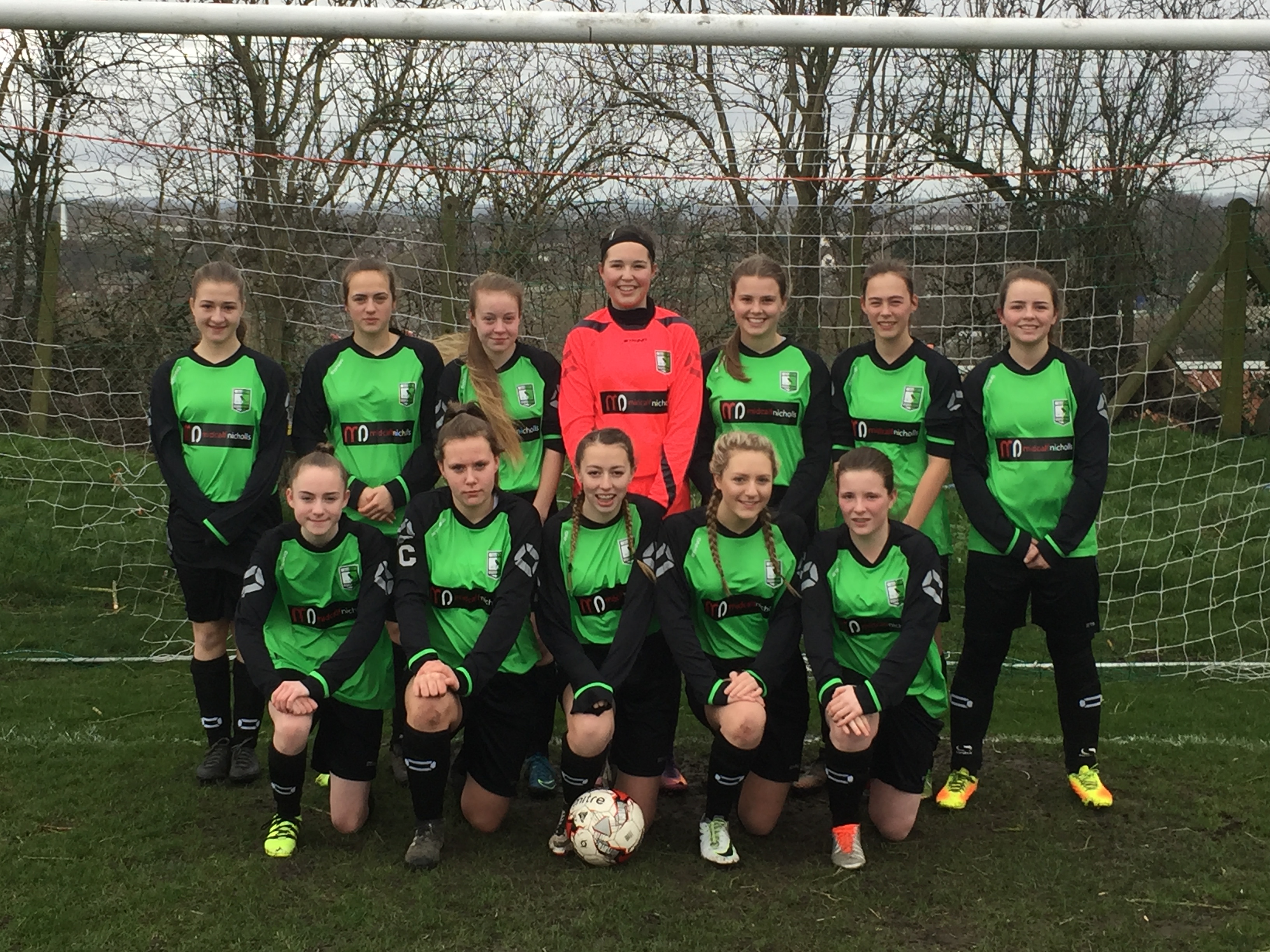 As part of our 25th Anniversary Celebrations, we are proud to sponsor Dudley Girls U15, pictured here before Saturdays 4-1 home win v's Burton Albion in the Central Warwickshire Premier Division.
SALES MANAGER DAWN DICKINSON IS IN THE STOURBRIDGE NEWS!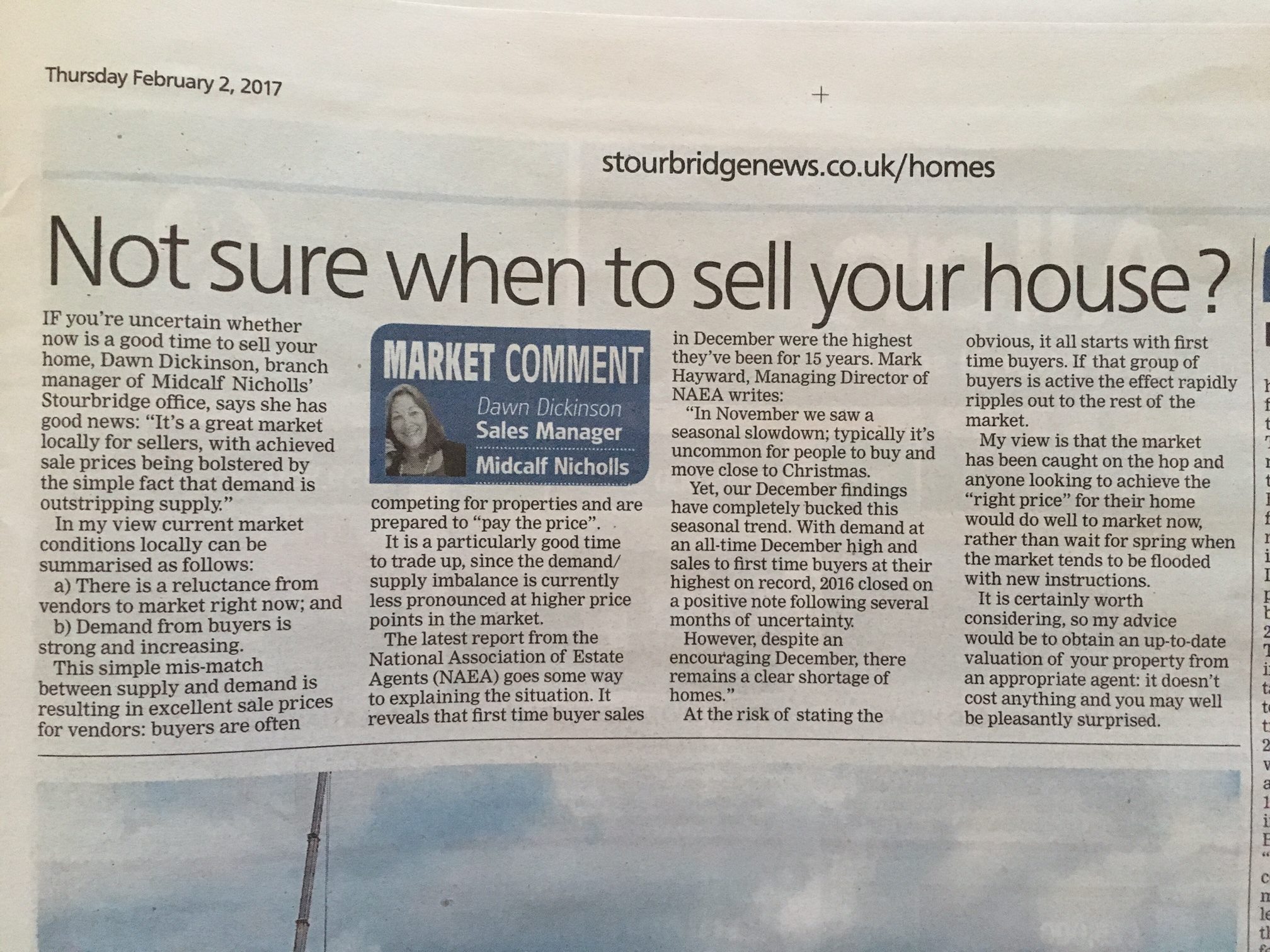 HOW TO SELL YOUR HOME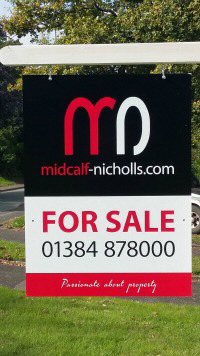 As a sign of our commitment to excellence, we gain more business from personal recommendation than any other source and our reputation is of paramount importance to us.  With a brand new website and new eye-catching sale boards we believe we're at the top of our game and will do our utmost to help you sell your home, but what can you do to maximise your chance of a sale?  These top tips will help separate the wheat from the chaff when it comes to selling your home.
Be realistic about the price.  Have a look at the local market and check out what other similar properties have recently sold for.  Chances are that if a property has been on the market for a long time, the price isn't quite right.
Step back.  Try and see your property from a buyers perspective.  What are its advantages and disadvantages.  There are some things that can't be changed, but buyers need to be able to picture themselves living in the house so it's essential that each room is shown off to it highlight its purpose. 
Prepare for a viewing seriously. Declutter as much as possible.  Simple things like clearing hallways of coats and shoes and clearing the draining board can make a big difference. First impressions count and cluttered houses create an impression of lack of storage. Leave the pets with a neighbour and clean up any pet hair as many people will be put off seeing it all over the house, not to mention allergies.  Turn the lights and heating on and air the house before a viewing.  Don't smoke or cook anything over powering beforehand.  All this will help demonstrate that this is an attractive, functional home.  Don't worry, we won't suggest baking bread or preparing fresh coffee….but you can if you want to!
Increase the kerb appeal of your property.  Don't forget the experience of viewing a property begins before a potential buyer has even stepped inside the front door.  Potential buyers might deliberately drive past a property before they make an appointment to view it.  Make sure that the entrance to your home is inviting, clean the area around the front door and spruce up tired doors or fences with a lick of paint.  If you've got parking leave the space free for the viewer.  If it's Summer, hanging baskets will add an instant splash of colour and finally remove the bins from view, if possible.
Fix anything that is obviously damaged.  Stains from old leaks need repairing, hairline cracks need filling and broken light bulbs need replacing.  First time buyers can be easily put off by things like this.
Freshen up tired rooms.  You don't have to spend a fortune, but a fresh coat of neutral paint, new tiling or lino can do wonders to smarten up a tired-looking property. If you can't stretch to re-tiling in the bathroom, re-grouting should bring it up new. The same effect can be achieved by installing matching chrome fittings; re-painting the front door; ironing sheets in the bedroom; taking down any heavy dark drapes; installing up-lighters in the living room for subtle lighting.
Flowers and plants can instantly lift a property.  You don't have to go overboard, but a few strategically placed flowers or pot plants can make a real difference to an entrance hall or kitchen and won't cost the earth.
Mow the lawn!  Gardens can be a big selling point, so make sure that the garden is neat and presentable.  If gardening is not high on the agenda, simply mowing the lawn and weeding will at least keep it looking tidy. 
EXCITEMENT BUILDS FOR AMY HUGHES VISIT AS FITNESS CHALLENGE COMES TO AN END
There's a real buzz around the playgrounds of Kinver at the moment, as local school children eagerly await the arrival of marathon world record holder Amy Hughes to the village on Friday July 10.
The 26 year old athlete, famous for completing an incredible 53 marathons in 53 days last year, will be visiting both Brindley Heath and Kinver High schools to present nearly 700 pupils with their medals and awards after taking part in the Kinver School's Fitness Challenge sponsored by Midcalf Nicholls.
The challenge for pupils from the junior and secondary school was to run the distance of a marathon over the spring to summer term, which they've now completed.
Robert Nicholls said: "As sponsors of the initiative we've been delighted to see so many children get involved and take part. We have been keeping an eye on their progress and they've all done incredibly well. Amy Hughes is a huge inspiration to them and indeed all of us!" 
The Schools Challenge was set up by a local community organisation called the Kinver Fitness Collective (KFC), which was established in 2014 by a group of volunteers.  Its goal was to get school children involved in exercise and getting fit.  The KFC now has over 300 Facebook members and aims to help people get fit for free, be it through walking, running or cycling.
Mr Jason Willets, headteacher for both Foley and Brindley added: "The challenge has clearly captured the children's imagination. We hope they will now build on this experience and the students will continue to have fun keeping fit and encourage other members of their family to get involved with the Kinver Fitness Collective.